The Icy Blonde Lob: Everything You Need To Know
A few weeks ago, our fabulous CEO issued a challenge to the office - she publicly dared each and every one of us to take the plunge and get the drastic hair restyle we have all be dye-ing (see what did there?) to try.
Let me back track a little... Our office is full of girls. And beauty products. And images of celebrities and models following the latest and greatest of hair and makeup trends. Which is awesome, except for the fact that we spend a large portion of our day discussing, sampling and experimenting with said stuff.
During one such discussion, we all claimed that we fancy some drastic hair changes for the summer season. Lighter, shorter, rocking a daring wig for a day - each of us had something different that we fancied trying, but maybe didn't have the balls to follow through on.
So in stepped Nina, who dared all of us to stop talking, and start doing by calling us out via social media and saying that she would personally pay for our new do's if we just went for it.
Olivia was the first to bite the bullet and booked herself an appointment at one of our awesome partner salons, RA_ Bar Beauty in West Hollywood, with the goal of turning her long light blonde hair into the 'in' style of the moment - a super hot icy-blond lob - a la Taylor Swift.
What we didn't know was quite what was involved in the process. And boy was it 'involved'.
From start to finish the two-step service took just over 4 hours, beginning with a half head of highlights, and ending with balayage - where the hair is hand painted - to add extra dimension. Liv, because she is a trooper, managed to work from her phone and laptop pretty much the entire time she was there, much to mine and everyone else's amusement. (see pics)
The time and detail involved in this process means that the cost is also on the high side. The gals at the RA_ Bar are at the top of their game when it comes to color and frankly, we wouldn't let anyone who wasn't anywhere near our locks. But be prepared to dish out upwards of $600 for this style. Even more, if your hair is dark to begin with.
Check out the gallery below, showing Liv's transformation.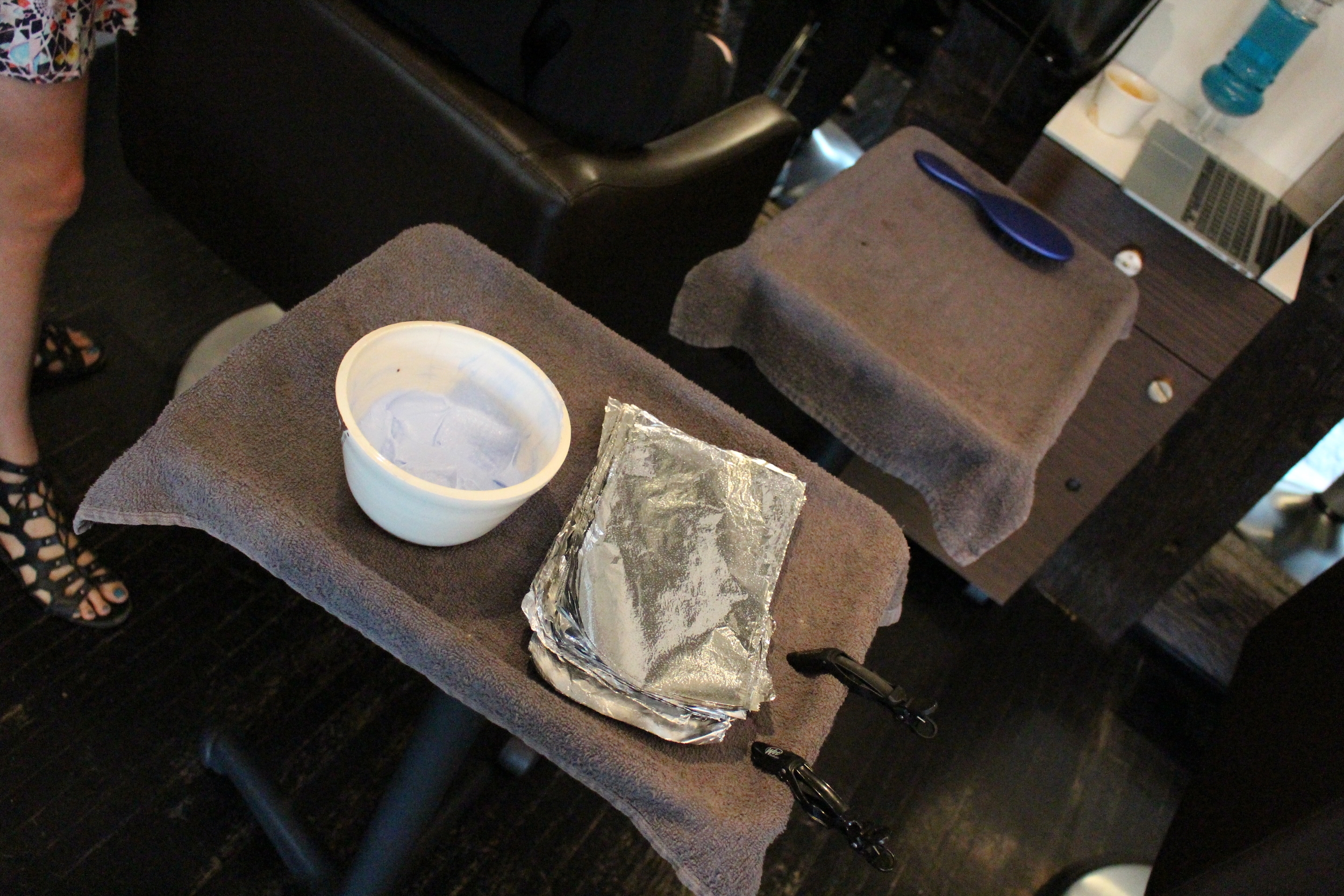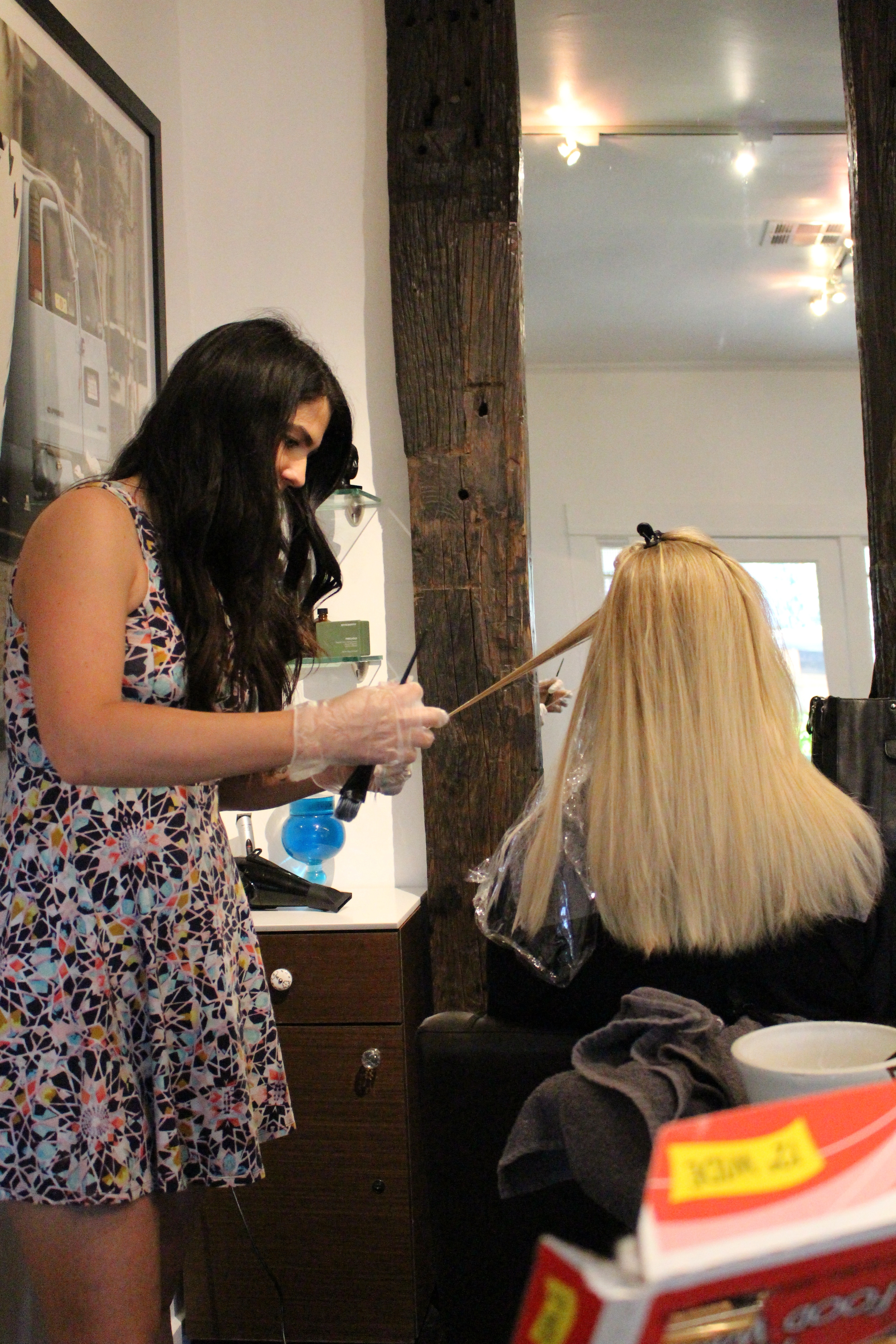 During the coloring, Audrey, co-owner of RA_ Bar and Liv's amazing stylist, shared a few post coloring tips with us, that will help keep any Icy Blonde locks in model-worthy shape.
Firstly, use a shampoo formulated for blonde hair, such as Kevin Murphy Blonde Angel, which is a favorite of many of our partner salons. But cut down on the frequency of washes. Every 3 days is perfect if you can last that long.
Use a purple shampoo, such as the one by Beauty With A Twist, if you see any yellowing of your color, but limit it to once every three washes as it can dry out your hair.
Touch ups can be done every 6-8 weeks but for Liv specifically, Audrey left a little depth in her root area so she could leave it for longer (3-4 months) if she likes that longer root, almost ombre look.
What do you think of Liv's makeover? Let us know in the comments below, and don't forget to tag us (@pretebeauty #readypretego) in all your own makeover pics so we can add you to our wall of fame.
The finished result: