Tricks & Treats: Our Favorite Ideas to Prep For Halloween
Halloween is near! Pumpkin Spice Latte's are on the counter and Hocus Pocus is filling our TV screens. We rounded up some of our favorite ways to gear up for October 31st with our favorite treats, chic DIY decorations, and costume ideas. Take a peek:
DIY DECORATION
Marbled Indigo Pumpkins via Alice & Lois
Supplies
indigo blue nail polish
stir stick
plastic container
pumpkins
Steps
Fill a plastic container 3/4 full with lukewarm water (If the water is too cold the nail polish will sink). Add indigo blue nail polish.
Use a wood stick to stir the nail polish on top of the water.
Did the pumpkin in the water and spin a bit.
Remove from water and dry on wax paper. Flip pumpkin after 20 mins to dry on the other side.
TREAT
Rice Krispy Treat Mummies via Creme De La Crumb
Ingredients
6 snack-size rice krispie treats
1 cup white chocolate chips
black edible piping gel or icing (found near cake decorating supplies)
optional: red food coloring
Instructions
Unwrap rice krispie treats and set aside. Place white chocolate chips in a microwave-safe bowl and microwave on half power for 2 minutes. Stir and return to microwave for 20 seconds at a time (still on half power) stirring after each until chocolate is completely melted and smooth.
Dip rice krispie treats in the chocolate being sure to coat the front and sides (the back side can remain uncovered). Place uncovered-side-down on a foil-lined plate or small baking sheet.
Repeat process with remaining rice krispie treats. Transfer plate/baking sheet to fridge or freezer to cool for 2-3 minutes.
While treats are cooling, spoon melted white chocolate into a small zip lock bag. Remove treats from fridge/freezer. Use scissors to snip off a tiny bit of one bottom corner of the chocolate-filled bag, then drizzle chocolate in a random pattern over the treats to create the look of mummy wrapping. Return treats to fridge or freezer for 1-2 minutes.
Pipe two dots onto each rice krispie treat to create mummy eyes. (Optional step, dip a Q-tip in red food coloring and dap two dots onto the rice krispie treats before adding the eyes to create a creepy "bloodshot" look.) Serve or store in airtight container up to 1 week.
DRINK
BOO-Berry Moscow Mule via Lauren Conrad
Ingredients:
*Makes 4 cocktails
ginger beer (I usually buy the kind that comes in individual bottles
vodka
1 small carton of blueberries, about 10 berries per drink
fresh mint sprigs
4 limes
crushed ice
floating plastic eyeballs, optional for Halloween (I used these ones)
Instructions:
First we're going to start by muddling the blueberries in our cups. Pour about ½ a bottle of ginger beer into each Moscow Mule cup, then place about 10 berries into each cup. Using a pestle, crush the blueberries into the liquid until they are smashed and the juice of the berries is mixing with the ginger beer. If you don't have a pestle, a fork or spoon should work as long as you can crush the berries with it.
Then, pour about 1 shot of vodka into each glass (or more if you prefer stronger). Pour ginger beer into each cup until just about 2/3 full, and top off with the juice of half a lime in each. Stir until mixed thoroughly.
Fill the remaining third of each glass with crushed ice. Add a sprig of mint, a lime wedge and a blueberry or two on top for garnish. And don't forget your spooky floating eyeball for the final BOO-berry effect!
WEAR
DIY Unicorn Costume via BritCo + PRÊTE Colored Blowout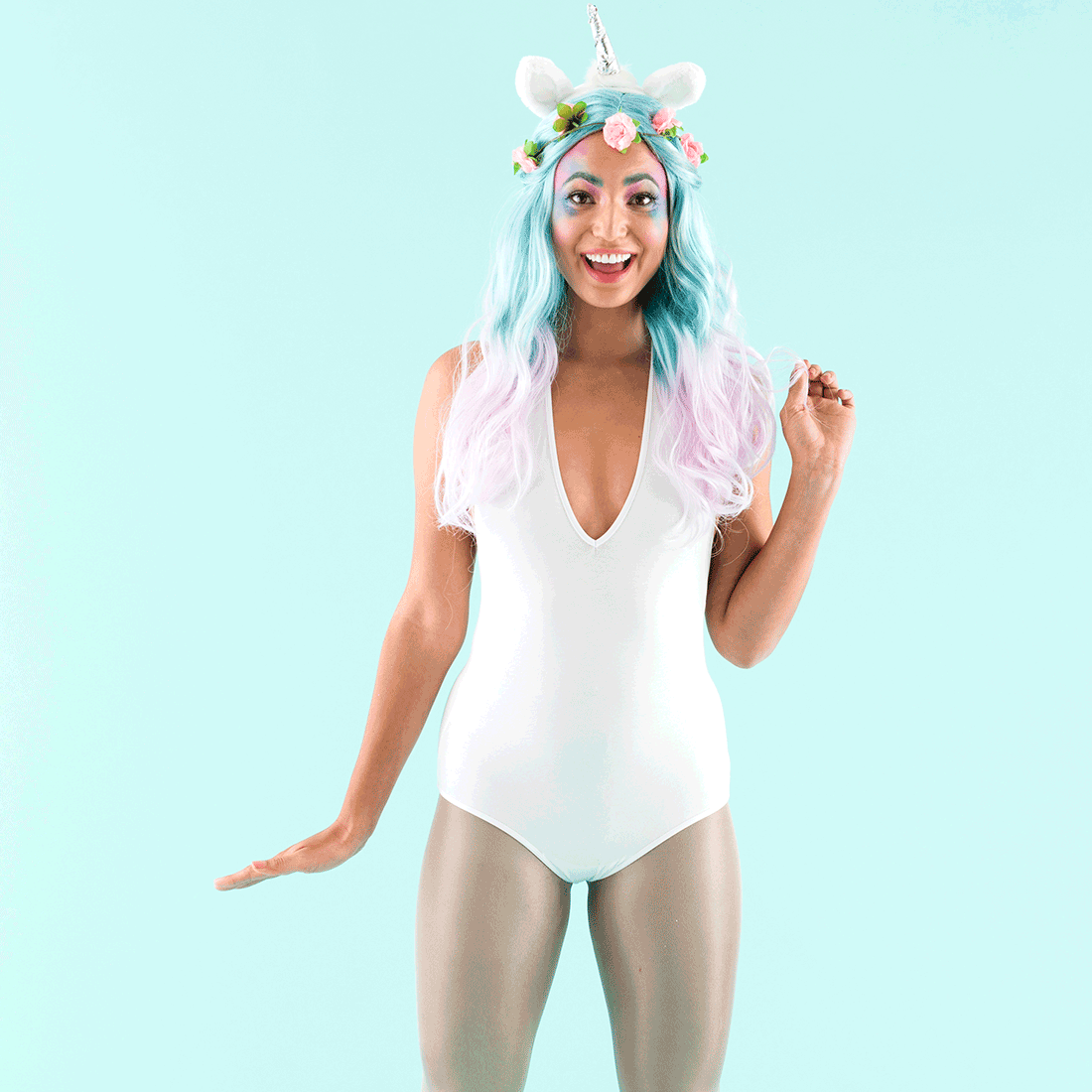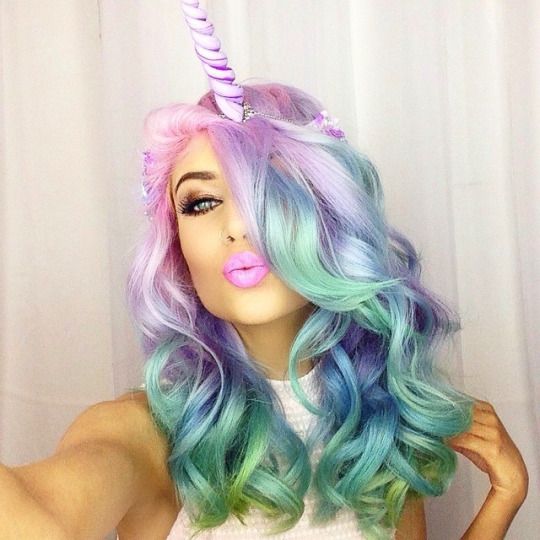 Get the look:
Finally, book a colored blowout through PRÊTE! Choose between Rose Gold, Lavender, or Platinum (or mix all three!) at checkout through the app, and leave the salon with perfectly styled hair + a touch of unicorn magic.